Rehearsal Diary One
The Production Meeting
Planning and preparation start long before the actors step inside the rehearsal room.
Members of the Measure for Measure creative team and crew met in early August to discuss ideas, determine costings, and make a few decisions. The result, they hope, will be a memorable and striking production of this, Shakespeare's most 'modern' play.
L-R: Sue Collins (Stage Manager), Bron Blake (Set Designer), Geoff
Moore (Set Realisation), Paul Collins (Director), Jenny Richardson (Costume Designer), Daniel Beilby (Composer & Sound Designer), Tim Hayward (Lighting Designer)
The team share a strong understanding of the atmosphere they want to portray. This city is claustrophobic, sleazy, hot and harsh. It's dirty and brooding. It calls to mind film noir and nightmare.
"The regime is oppressive, manipulative, exploitative," says set designer Bron Blake, "and it seems to me that the characters are trapped, either by their own or others' actions. This suggested a bars and cages theme in a harsh, alienating environment."
Two enormous cages, made of scaffolding covered in a wide gauge mesh, will swivel into different positions according to the scene. The lighting will create a fantastic grid effect across the stage, bringing to mind thoughts of imprisonment, confinement.
Bron took her inspiration for the set from Mona Hatoum's exhibition at the Tate Modern.
See the picture below (Mona Hatoum at Tate Modern: http://www.tate.org.uk/whats-on/tate-modern/exhibition/mona-hatoum)
A strong collaboration between the lighting and set
Tim Hayward, lighting designer, plans to pursue the claustrophobic theme. "Almost all the scenes are very small. They take place in confined spaces."
Tim's preparation has included creating a detailed list of time markers from references in the play. This is the sort of extraordinary detail that's needed for a successful lighting plan.
There is a strong connection between the set and the lighting. Music, too, helps to unify the play. All these elements bind characters and scenes together.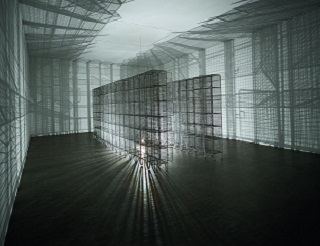 Early on, director Paul Collins sent Daniel Beilby, production composer
and sound designer, a piece of music by Webern: a turn of the century Viennese expressionist composer. "All a bit dense and anguished," says Daniel. "But I thought, why not take that expressionist, dense sound, but play it with saxophones, piano and jazz drums."

I want to make it sound steamy and seedy

As early as the beginning of August, Daniel had composed themes for the Duke, Angelo and Isabella. Daniel works with a virtual orchestra on his computer. He invents motifs for characters. He then applies different musical lines to different instruments on a sequencer. Daniel uses
Cubase, with instruments from the Vienna Symphonic Library.

This work produces a rough cut. The bulk of Daniel's time is then spent sculpting these sounds and making the performances realistic, adding articulations, volume and timing nuances.

The director, Paul Collins, is very enthusiastic about these developments. He has put together a strong team. For him the play is about government. Government of self. Government of others.
Jenny Richardson, the production's costume designer, is tasked with bringing a little colour to the stage, in contrast with the harsh set.

I've got to have some colour!

Jenny runs through her initial ideas: "I'm hoping to make Mistress Overdone into a sort of Cynthia Paine. Shocking pink. Lucio is equally at home in the Court and the brothel. I was thinking a bit steampunk.
Pompey is like a Soho spiv, a greasy pimp. Perhaps a very bright tie, winkle pickers."

Jenny takes detailed measurements of all the actors, then searches our enormous Wardrobe department for the right fit. She may need to make some costumes from scratch.

This is only the beginning

With a total budget of just £912 (£350 of which will be spent on the stunning set), it is a mammoth task to mount such an ambitious and visually striking production. But one this talented group is more than equal to.


Book now for the best seats 4 - 12 November: Measure for Measure.

Next time: the read through...