PlayBack and the Reminiscence Roadshow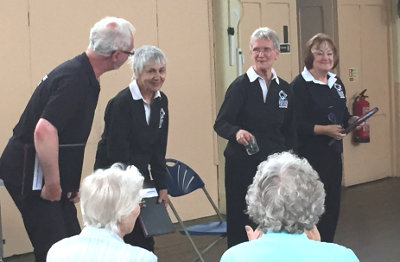 The Questors' PlayBack team create community theatre from the reminiscences of local people. For some 25 years, we have been putting on performances of reminiscences plays at The Questors and touring them to community venues around the area.
In 2001 PlayBack started the Reminiscence Roadshow initiative. This proved such a success that we've been visiting voluntary and community groups in west London with our roadshows ever since.
What is a Reminiscence Roadshow?
Reminiscence Roadshows are informal presentations that use reminiscences tailored to a specific theme. A small team of performers bring the memories alive through readings, songs and little sketches. Each show lasts about 35 – 45 minutes, although their length and content can be tailored to suit a particular audience. After the show we like to chat with audience members (ideally over a cup of tea) to get feedback, and hear their own reminiscences.
We have created 11 roadshows to date:
And the wheels went round...: stories of cycling, home and away, plus romance and races in the 1930s and 40s
Reading, Writing & 'rithmetic: true tales from the classroom, in the early years of kindergarten and primary school
A Night at the Cinema: going to the "pictures" in the past - and some special memories from those who worked inside Ealing Studios
Yesterday's Children At War: reminiscences of growing up in west London during the Second World War
Brentford Home & Away: life in Brentford as it was, seen through the eyes of Brentford FC supporters. (Absolutely no football knowledge is required to enjoy this show!)
The Four Seasons of Ealing: remembering special occasions across the year, in & around the borough of Ealing

Down Our High Street: reminiscences of shops and shopping, before the arrival of supermarkets and shopping centres
A Life on Soapsud Island: the life of a real laundry "Missus", when Acton's Soapsud Island was the laundry centre of west London
On the Allotment: stories of life on the allotments of west London, as told by the people who work and enjoy them
'Tis the Season to be Jolly: remembering Christmases of the past, including festive songs and carols
Those Happy Days: memories of children's fun, games and family life in the 1930s and '40s
We perform roadshows in all sorts of community venues in the west London area - including church halls, community centres, old people's homes & sheltered accommodation - at the request of all sorts of voluntary and community groups.
Our latest addition to PlayBack is 'Home is...' We have been speaking to Questors members who have come from countries all over the world and have settled in West London, and they talk about what home means to them.